OneView Digital Store Platform: Enable, Empower, Engage
Making the digital store a reality for innovative retailers around the world
The store remains the primary channel for sales for the majority of retailers around the globe. That critical and powerful point of face-to-face interaction in store still represents up to 90% or more of total retail sales. While sales in e-commerce and mobile channels may have surged over the last decade, these channels still represents a small fraction of total retail sales and often represent the highest percent of returns for most retailers. These factors make it critical for retailers to take a holistic view of all channels to ensure a satisfying customer experience.
For forward-thinking retailers, the maturation of e-commerce and mobile technologies present the opportunity to deliver new experiences and value to customers during the in-person interaction at the store and create seamless interaction between the in-store and online experiences. While digital commerce and engagement technology brought into the store drives a whole new level of service and convenience, the true power of the digital store is its ability to take the critical high volume of information from the store and make it actionable across all channels and the entire retail enterprise.
In-store digital engagement serves, wins, and retains customers who demand service and convenience. But it doesn't magically happen. The sheer scale and breadth of the digital store platform to achieve this level of engagement requires a commitment to deliver the next-generation in-store shopping experience, one that is tightly integrated to the enterprise to provide unparalleled opportunities to engage the customer. Those organizations that focus on driving service and convenience for both the associate and the customer will become the leaders in leveraging digital store technology.
Retailers on a path of digital transformation outshine their non-digital competitors. OneView's Digital Store Platform leverages integrated systems of engagement to add value for associates while ultimately addressing the rising expectations of empowered digital customers. The OneView Digital Store Platform drives the newly evolving digitalized store and is the key that unlocks a more satisfying shopping experience for the customer, enables workforce efficiency, and pushes valuable data across the enterprise, resulting in:
Increased sales

Reduced returns

More conversions

Better service

Stronger cross-channel customer loyalty
The defining power of the digital store is OneView's ability to use a retailer's collective data to create transformative and unique customer interactions across every channel while delivering improved business operations. By understanding and leveraging the power of the data derived from one-to-one interaction in-store, OneView's innovative retail customers now engaged in digital store transformation prevail over competitors.
The ability of today's educated and wired customers to transcend traditional channel barriers has left many retailers struggling to keep pace. In response, successful retailers have turned to OneView to transform their approach to commerce by demanding One View of the retail landscape — a single view of customers, orders, inventory, pricing, loyalty and more. Smart phones, social networks and interconnected technologies make a "crisp" experience at every touchpoint imperative to attract customers and keep them coming back. Tight margins, complex supply chains and intricate market infrastructure make operating efficiency a must. Based on the engagement-driven digital commerce platform, OneView makes the digital store a reality with retailers around the world.
Continuous Engagement on the Customer Journey
Key Drivers in the Evolution of Point of Sale
Unlike yesterday's point of sale, a modern store solutions suite such as OneView Commerce Store, is a customer interaction and engagement platform where business drivers determine which functions will be leveraged at the traditional point of sale. For some retailers, this might be POS functions where mobility brings speed, efficiency and flexibility to existing processes through line busting, on-floor engagement or pop-up stores. For others, opportunities exist to take business processes in entirely new directions by leveraging the online channel to drive more traffic to the store or to capture a 360 degree view of the customer before they arrive in store with integrated appointment booking. This holistic view of commerce has become the defining point of the modern point of sale suite. Next generation POS now ensures that once the customer arrives in the store, associates have the view of customer history, behaviors and plans that allows them to prepare specific cross sell and up sell offers to extend the customer visit into a targeted engagement opportunity.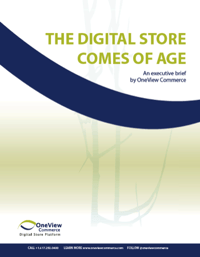 OneView Commerce Unveils Digital Store Platform that Optimizes Cross-Channel Retail Operations, Customer Engagement and Associate Efficiency


The OneView Digital Store Platform digitizes the store to deliver a more satisfying, engaging shopping experience for customers while optimizing workforce efficiency. The defining power of the OneView's digital store is its ability to deliver multi-directional content to, from, and among online and physical stores. This flow of cross-channel transaction data enables continuous engagement across all experiences to improve operations, generate more sales, deliver better service and reduce returns.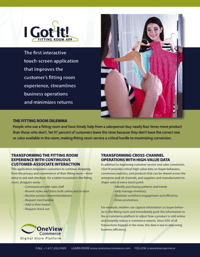 OneView's I Got It! Improves Fitting Room Experience, Streamlines Business Operations, and Minimizes Returns

OneView introduces, I Got It!, the first interactive fitting room application that empowers customers to shop from the privacy and convenience of their own dressing room. Shoppers can communicate with sales staff, browse styles, receive product recommendations, request merchandise, browse both online and in-store products, add to their basket, and request check out. I Got It! drives customer engagement, enables associate optimization and customer service, and captures actionable product and conversion data for all retail channels.



Enable
OneView delivers unique, brand-based customer experiences worldwide
Empower
OneView empowers retailers with a platform that supports individual business objectives
Engage
Boston | Amsterdam | Munich
London | Paris