Clienteling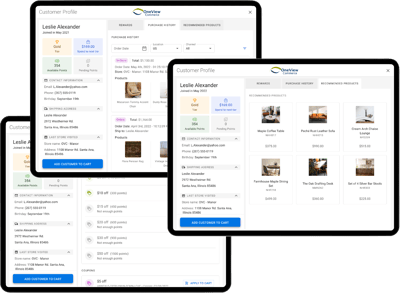 Engagement that transforms customers into clients
Clienteling is an effective method for retail associates to establish long-term relationships with customers. With access to data about customer preferences, behaviors and purchases, associates are able to provide more personal and informed customer service in the store, which encourages future shopping frequency, boosts average transaction value, and strengthens loyalty in addition to other retail key performance indicators. The personal touch that clienteling adds to the shopping experience also is a defensive strategy for protecting brands against competitive disruptors.
All About the Data
Collection
Omnichannel shoppers browse, create wish lists, and purchase in person, online and by phone. Collecting data throughout the client lifecycle across all channels (in person, online and by phone) in a searchable and retrievable database is the essential first step for clienteling:

Browsing history
Wish lists
Purchases
OneView Clienteling delivers this 360-degree view of customers that includes all interactions and cart data across their entire omnichannel journey.
Access
The next step is making the data accessible to associates on digital tools, mobile devices, and fixed workstations. With these critical customer insights and access to products, pricing, promotions, inventory and orders, OneView Clienteling empowers your sales associates to:

Provide the highest level of personalized service
Enhance engagement
Cross-sell and up-sell relevant products when appropriate
Prompt customers to take advantage of a special promotion or bonus loyalty program rewards
Efficiency
OneView Clienteling's one-touch availability at the point of sale also:

Streamlines associate workflows and store operations
Provides access from any in-store device
Boosts sales of excess inventory with little to no discounting with promotion to customers based on past purchases
Helps purchasing make better buying decisions
Beyond CRM
While sales history collected in CRM platforms provides some insight into a customer's tendencies, information shared personally by a customer with an associate in a face-to-face interaction is priceless. It enhances client profiles beyond a purchase history and e-commerce activity, informing more personalized future interactions. And while clienteling excels at in-store engagement, it also drives efficient e-commerce selling when integrated with promotions and loyalty program rewards.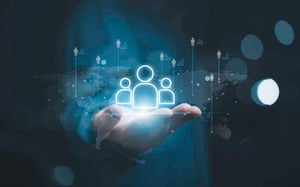 Ready to Transform your Customers into Clients?
Try the 5-minute self-guided demo to learn how easy OneView's Clienteling is to use:
Get Started with your Free Trial
Ready to modernize and scale your digital to in-store experiences? Download the OneView Free Trial Guide to see how control, agility and speed-to-market will transform your business.
Eliminate friction at every touchpoint

Empower customer engagement

Extend or replace legacy systems