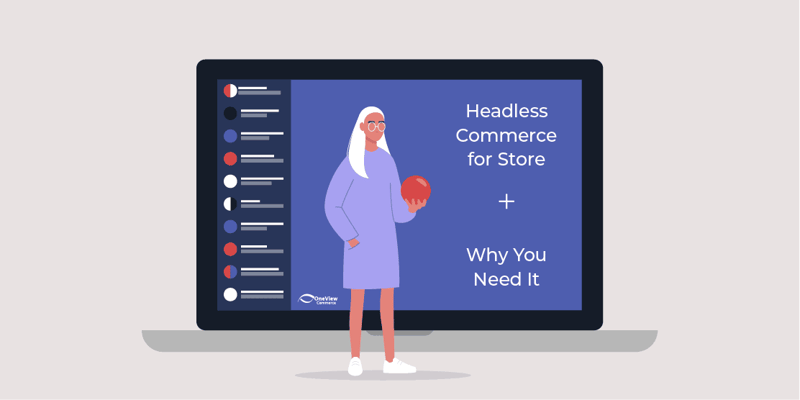 Earlier this week, OneView held a webinar "Headless Commerce for Store and Why You Need It." It was an opportunity for our team to share how the concept of the concept of headless commerce, which separates the backend processing from a retailer-owned UX layer, brings a new level of control and ownership to tackle the digital-first expectations of customers today. Here we share three essential takeaways on how headless for store empowers retailers as they grapple with what's next for retail in 2020.
Technology platform to avoid regret spend
To respond to the massive increase in digital adoption that is the hallmark of the 2020 pandemic, retailers often face a complex web of legacy systems and processes that block them from quickly delivering compelling experiences to and from their stores. Today, few companies are willing to fund programs that can't demonstrate significant competitive advantage and transformative value, but faced with a need for immediate action many turn to one-off initiatives and regret spend. Headless commerce for store empowers you with control combined with a powerful transaction engine to imagine, build and deliver your unique customer experiences aligned to your business strategies. A headless commerce for store platform lets you focus on high-value engagement as it powers the critical commerce functions while freeing you to build, evolve and extend customer engagement.
Leverage technology as a core competency
In the face of unprecedented disruption, the need for retailers to embrace a digital-first mindset is critical. Leaders such as Amazon, Alibaba, Walmart, and Kroger recognize that to be competitive requires control of their digital and technology assets to predict and respond to customer expectations. While historically, retailers bought systems that ran "commerce" and worked with what the vendor provided them in terms of customer experience, the pace of change today demands strategies that focus on continuous iteration and evolution of experiences as customers find new ways to engage with your brand. Among other vital metrics, digitally driven retailers indicate that up to half their digital business comes from competitors, and basket sizes of pickup orders are often twice the size of in-store. Embracing a headless commerce platform ensures that retailers have the tools to build complex experiences fast by building on a single transaction engine to increase the relevance of every interaction.
No Need to Rip & Replace Legacy Systems
Why does that matter? When legacy systems are in play, any iteration of your experience will often mean many months and many millions of dollars of effort, if it can even be achieved at all. In today's digitally focused world, slow execution translates to losing customers as they turn to those offering the kind of personalization and relevance that recognizes the value of their loyalty. The concept of replacing legacy systems outright is akin to a pipe dream many years in length and, even more importantly, ignores the inherent value that can and should be harvested from these systems to add value to engagements. Digital pioneers like Walmart, Kroger and Target are seeing the outcome of years of test and learn initiatives now pay off as they demonstrate the kind of quick iteration that is the hallmark of a headless commerce approach. Pivoting to contactless engagement during the pandemic, these leaders showed how control was critical to delivering meaningful experiences for customers. Bringing headless to the store context, OneView gives all retailers this level of control to define, build, and own unique experiences that drive business value and customer loyalty. Headless for store empowers your tech team with a single commerce engine to deliver digital engagement at the pace of business.
Ready to take control of next-gen commerce? Visit our headless for store resources to see how, unlike traditional legacy store applications, OneView's headless architecture empowers retailers with control and agility to deliver for the business. Learn how leading innovators like Kroger use this agile infrastructure to make test-and-learn a reality that informs and enables next-gen commerce.

Lexy Johnson
Go-to-market and thought leadership strategist empowering OneView teams to bring exceptional products to market