Trends, Technology, Promotions, and Advertising Tips
The holidays are upon us once again and if you're in retail, you're gearing up for the most wonderful (and busiest) time of the year. To help you through this busy time, we're shedding light on the top retail holiday trends and selling tips that retailers should be paying attention to this festive season.
As the second pandemic-era holiday period, we're set to see a repeat and increase of challenges such as ongoing supply chain issues. But we're also seeing a return to normal; holiday spending is on the rise, and consumers are looking forward to hitting up physical stores as well as shopping online. Needless to say, flawless hybrid retail experiences will take the stage in 2021.
We've pulled together all of the top holiday insights that retail businesses need for a seamless and profitable holiday season, including:
Important holiday retail statistics
What to expect from the 2021 holiday season
Top holiday retail promotion tips
Top holiday campaign ideas
Retail technology you should be investing in
Holiday Retail Statistics
All signs are pointing to e-commerce having another stellar year. Forecasts by eMarketer put revenues for the 2021 holiday season at $206.88 billion – 11.3% higher than last year.
This isn't surprising, considering the massive growth of online shopping since the onset of the pandemic. But this doesn't mean physical retail is out of the equation in this holiday's retail trends.
In fact, offline commerce sales made up 86% of total retail U.S. sales during Q1. Moreover, Google found that 61% of consumers would rather buy from e-commerce brands with physical store locations, as opposed to those with just an online presence.
As we head deeper into the holiday season, brands operating both online and offline need to think carefully about how to leverage these channels to deliver seamless and consistent customer experiences. It's worth noting that during the 2020 holiday season, retailers offering curbside and in-store pickup saw online spending grow by 54% compared to just 34% for those who didn't.
In short, your e-commerce operation will be limited without a smooth in-store experience. This year, actually breaking down the silos between channels (not just talking about it) will be the key to success.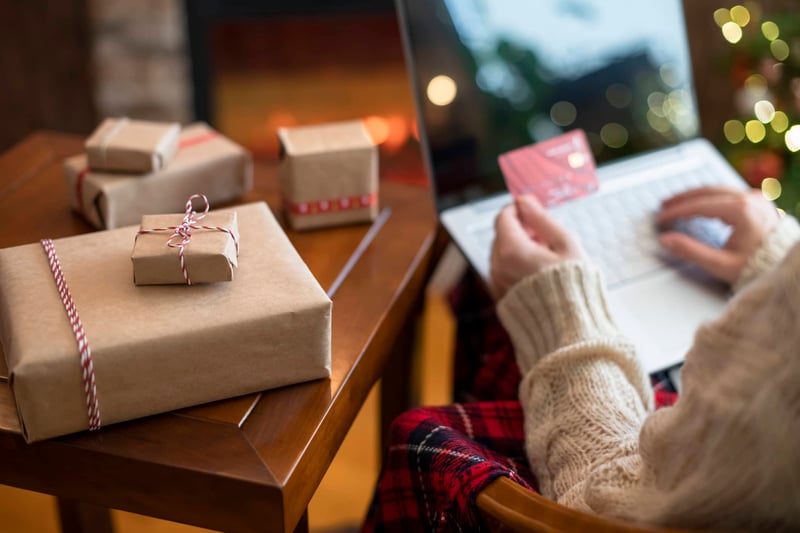 What to Expect From the Holiday Season in 2021
Supply chain challenges mean a longer, less promotion-driven holiday season
Retailers used to herald the start of the holiday season with doorbuster deals for Black Friday and Cyber Monday. But due to pandemic-induced supply chain difficulties, a new holiday retail trend is a more cautious approach to avoid running out of inventory, which could mean a longer, slower build-up to holiday promotions.
More people plan on shopping in-store this holiday season
Thanks to vaccinations, customers are feeling a lot more confident about in-store shopping than last year. According to RetailDive, nearly two-thirds of U.S. shoppers plan on buying gifts from physical stores. This is partly due to concerns about online purchases not arriving in time, with a third of consumers reportedly concerned about slow delivery times.
In addition to keeping store-based inventory stacked high, retailers need to focus on creating a safe shopping space. A recent survey found that 70% of consumers expect retailers to enforce health and safety precautions in-store. This includes mask-wearing, social distancing, and plexiglass screens to help reduce the risk of virus transmission.
Consumers expect seamless hybrid retail experiences
The pandemic has fuelled the popularity of online-to-offline services such as curbside pick-up and BOPIS (Buy Online, Pick-up In-Store). According to Business Insider, click and collect activity more than doubled during 2020, are you ready to execute?
While customers were willing to put up with rough-and-ready versions of these services last year, they now expect a more refined approach. This means a fast turnaround from ordering to pick-up and minimized wait times when picking up orders.
Without a unified commerce strategy that syncs operational data like inventory levels, order management and store visits,
, it's virtually impossible to maximize click and collect effectively. Investing in retail technology that gives you a single transaction engine and control of every touchpoint in the shopping journey is essential for the changes being ushered in this holiday season and beyond.
Higher holiday spending
As the economy recovers from the impact of the pandemic, shoppers are ready and willing to spend big during the holidays.
According to the National Retail Federation, the 2021 holiday season is set to smash records set in 2020, and sales are predicted to reach 8.5% – 10.5% higher than last year. Moreover, a study by creditcards.com found that 41% of respondents are willing to incur debt this holiday season.
However, this is no time for retailers to get complacent. With the return of experience-based spending like travel and dining, stores will need to pull out the stops with the right promotions to increase conversions and capture their share of the consumer wallet.
Holiday Promotion Tips
Whether you're selling via e-commerce or brick and mortar (or ideally both) there's no shortage of holiday promotions and advertising strategies that should be part of your arsenal.
Online holiday promotion ideas
Free shipping
According to Shopkick's 2021 holiday survey, 94% of customers say that free shipping is the perk they're most interested in when shopping online this holiday season. However, free shipping is something of a catch-22 for retailers.
Shouldering the cost of shipping can seriously erode your profit margins but not offering it at all means losing out on sales. Sixty percent of consumers report choosing one e-commerce store over another due to better delivery options
There are several ways for retailers to lessen the impact of free shipping, including:
Using flat-rate shipping
Implementing a minimum order threshold
Excluding oversized/heavy items from free shipping promotions
Implement BOPIS (buy online pick up in store) or a "ship from store" process to fulfill orders in locations where you have a physical presence closest to the customer
Gift-wrapping in lieu of promotions
If your business is facing supply chain issues in the lead-up to the holidays, offering discounts might not be the best option. Instead, consider offering some value-added additions to entice customers to purchase.
While some enjoy the process, gift-wrapping is a common pain point experienced by consumers during the holiday season. According to Statista, popular reasons for disliking gift-wrapping include:
It takes too much time (52%)
Forgetting labels or tape (41%)
Parcels not looking as "special" as people want (27%)
By offering free gift-wrapping, brands can provide a valuable service and give themselves a competitive edge during the holiday season, as shown here by Can to Candle:
Offline Holiday Promotion Ideas
Discounts on BOPIS orders
Many e-commerce stores are forced to use slow economy shipping to preserve profit margins, resulting in unsatisfactory customer experiences. According to eMarketer, merchants are meeting consumers' delivery expectations just 45% of the time.
BOPIS helps retailers to reduce shipping costs by providing a faster alternative to home delivery. When an order can be ready for pickup in as little as two hours, BOPIS offers a level of instant gratification that e-commerce cannot match.
To increase click and collect activity, merchants should consider offering a small discount on BOPIS orders, such as 10% off or increased loyalty points. This helps you serve customers effectively and increase store traffic.
Use social media to drive in-store visits
Although associated more with online shopping, social media is a highly useful tool to help drive foot traffic during the holidays.
By promoting unique in-store experiences on social media that customers cannot find elsewhere, you can provide some great incentives for customers to shop in person. This is a key revenue generator when 62% of customers buy more than what they intended during in-store shopping sessions.
Nordstrom pioneered a great in-store shopping strategy in 2020 by designing holiday shopping bags that could be deconstructed into Christmas decorations and wrapping paper. By encouraging consumers to share their creations online, Nordstrom extends their online reach and drives more in-store activity.
Create a holiday gift guide
Holiday gift guides are a highly valuable tool to curate products that you want to spotlight. With 81% of shoppers conducting online research before making a purchase, gift guides provide consumers with a valuable shortcut to find gifts during a busy time of the year.
There are multiple ways you can create an engaging gift guide. For example, basic information such as price point plus demographic information such as gender and age are convenient ways of zeroing in on likely gift options. You can also get more creative by using themes, such as "shop local" or "eco-friendly" to appeal to conscious shoppers.
Macy's offers an excellent example of a holiday gift guide done right. The guide is incredibly easy to navigate; shoppers can view items based on price point, gift recipients, and product category, enabling them to quickly find the presents they need.
Feature both in-store and online coupons
While online-only promotions and discounts have gained a lot of popularity during the pandemic, it's important to not forget about in-store discounts during the holiday season. While you can take an omnichannel approach of offering the same deals across channels, there can be a major benefit to tailoring your deals to specific shoppers.
For example, giving in-store customers a coupon for 20% off their next purchase when they reach a certain threshold is a great way to foster repeat purchasing behavior that outlasts the holiday season.
Stand Out with Holiday Campaigns
Use social media for upcoming promotions
With most consumers now using multiple channels to browse and purchase products, social media is a convenient way to scope out new brands and products. In fact, 55% of Gen Z and 57% of Millennials think social platforms are a better place to find new products than online search.
You have a more captive audience during the holidays, and this makes your social channels the perfect place to advertise deals and increase customer engagement.
Highlight loyalty program options for increased customer engagement
Loyalty reward programs are an extremely powerful tool when it comes to shaping customer behavior, yet few retailers actually offer holiday-specific rewards.
According to Clarus Commerce, Only 7% of retailers offer holiday discounts as part of their program, even though 73% of millennials have joined a loyalty program for the sole purpose of using discounts during the holiday shopping season.
For retailers, this means two things: Your customers want to access loyalty benefits fast, and they want you to provide occasions to use them.
Sephora's Holiday Savings Event is a great example of how to offer holiday-specific rewards. Early access and bigger discounts go to their top-tier Rouge members, while the lowest level Insider tier gets the least. This helps to drive buyer urgency and stimulate engagement with their program as customers are enticed to reach higher levels.
Launch a flash deal
A flash deal is when an online or offline retailer offers a generous promotion for a limited time period, usually 24 or 48 hours. The purpose of flash sales is to drive customer urgency to make an impulse purchase through FOMO or the Fear Of Missing Out.
When consumers are primed during this time of year to search out good deals, offering a flash sale or two in the lead-up to Christmas helps your brand to stand out from the crowd.
Coconut Bowls has advertised a special 3 for the price of 2 deal along with free shipping in their flash deal, with a cheeky reminder in their post that the holiday season is fast approaching:
Emphasize social and climate responsibility
Modern consumers have become more discerning about the retailers they support. Industry data shows that 64% of customers prefer to buy from brands with a reputation for purpose as well as profit — up 10% from 2019.
With its focus on gifts and spending time with loved ones, the holiday season is the perfect time to reflect on what your brand is doing to help those who are less fortunate.
In 2020, John Lewis launched its #GiveALittleLove campaign on social media to highlight its charitable activities and encourage consumers to share their own heart-warming stories of holiday cheer.
Put gift guides both in-store and online
The value of holiday gift guides isn't limited to your online store or social media channels. Turning your guide into print media that customers can collect during store visits is a great way to prolong shopping sessions and boost sales.
In fact, holiday gift guides might be more effective than their online counterparts; studies show that 75% of people exposed to a print ad can successfully recall the brand at a later date, compared to just 44% of people viewing a digital ad.
When so many brands are competing for consumers' attention during the holidays, in-store gift guides could give your brand what it needs to edge out competitors.
Run a "gift with purchase" promotion for in-store shoppers
There's not a single customer out there that doesn't enjoy getting something for free. Harris Interactive found that U.S. consumers are 3 times more likely to buy at a shopping site when receiving a free gift, while two-thirds are more likely to share their experience with others.
When customers are shopping for gifts during the holidays, you can come up with some fun storytelling around your Gift with Purchase deal. For example, "Buy a gift, get a gift" is a great way to celebrate self-love during the holidays and add an extra dimension to the purchase.
Simplify your Holiday Season with the Right Technology
We get it: The holiday season is stressful enough without having to think about which retail trends you should be focusing on. That's why it's time to streamline your retail operations by investing in the right retail technology for your business for this holiday season and each one after.
A modern tech platform gives retailers the agility to act on both today's and future holiday retail trends, increase efficiency, and drive more relevance for customers. With the ongoing pressures caused by the pandemic — including labor shortages and supply chain disruption — it's never been more important to look for ways to cut out manual processes that increase workloads, introduce errors and slow down staff efficiency.
This is where unified commerce makes all the difference in offering your customers a seamless, hybrid retail experience that maximizes the value of your online and offline channels. From flexible fulfillment to advanced personalization that targets customers with relevant offers, a unified commerce platform is your best tool for navigating every holiday season with confidence.
Wrapping it up with a Bow
This year's holiday trends are a testament to how the retail landscape is constantly shifting alongside the economy and changing consumer habits. Where e-commerce reigned supreme during the 2020 holiday season, the resurgence of brick and mortar during 2021 is pointing towards the hybridized form of retail where cross-channel engagement is crucial to boost conversions and create satisfying customer experiences.
Whether it's promoting your gift guides online and offline or using social media to drive greater foot traffic to your stores, this year's retail holiday trends are all about fostering a stronger connection between channels to drive greater engagement with your holiday retail promotions.
By investing in your unified commerce strategy, your business will be uniquely positioned to leverage the higher spending power of the 2021 holiday season and serve customers in whichever channel they choose to browse and purchase in. Contact OneView today to find how to quickly start your journey to unified commerce with our free trial offer that empowers you to immediately begin streamlining your holiday retail strategy.

Lexy Johnson
Go-to-market and thought leadership strategist empowering OneView teams to bring exceptional products to market