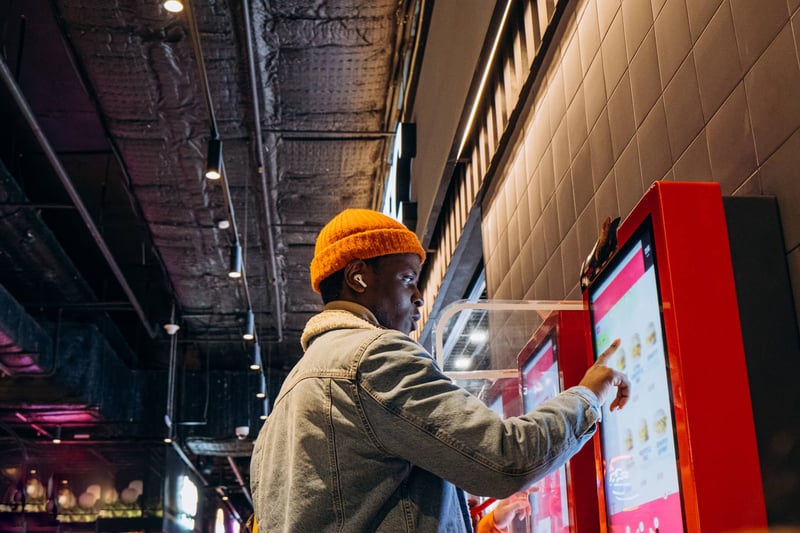 C-suite leaders at enterprise retailers continue to be challenged by a fast and furious flow of point of sale (POS) trends and changes as they work to cater to customers' ever-changing preferences. Future POS experiences must blend desktop, mobile, self-checkout, and self-service solutions to enhance customer engagement, optimize sales opportunities, and support loss prevention. This article walks through a number of POS technology innovations to help leaders determine which merit consideration in 2023 based on the value they deliver to the business and customers.
Self-Service is the New Normal
Since the vast majority of shoppers say they use self-checkout and want more availability of this convenience, retailers can't afford to overlook this most coveted POS experience. A mainstay in a variety of outlets—convenience stores, quick pay, grocery, etc.—self-checkout is becoming increasingly more common as technology and hardware advances make it more cost-effective and flexible. For example, lightweight, convertible units make it easy to instantly transition from a self-checkout lane to full cashier checkout with just a swipe of an associate's credentials.
Research has proven the popularity of self-checkout. Catalina estimates that 38% of checkout lanes are already self-checkout lanes in U.S. grocery chains. And according to Raydiant, 48.7% of consumers use self-service kiosks "basically all the time" when it's offered in the store; 30.6% said that they use self-service checkout kiosks "some of the time" when it's offered in store.
What's more, 59.8% of respondents said that they prefer self-checkout, while only 34.5% of them said they prefer a cashier-assisted checkout. However, Raydiant's most compelling finding is that 49.4% of respondents said that they are more likely to visit a store with a self-checkout option over one that does not, all else being equal.
This demand for self-checkout and other types of self-service formats (from kiosks to consumer apps and just walk-out) makes cashierless checkout an integral feature of retail's future. Read more about considerations in selecting a self-checkout solution and introducing it to customers here.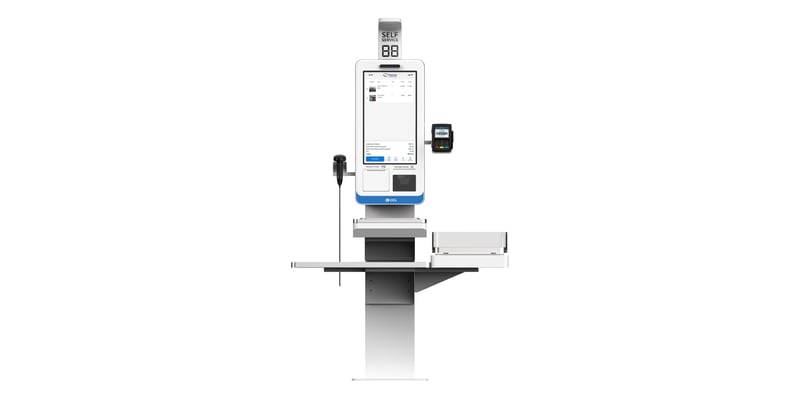 More Advanced POS Hardware & Software
POS systems that support advanced hardware and software offer greater mobility, flexibility and efficiency than ever before. The software streamlines daily workflow with tools for handling customer loyalty programs, inventory tracking, and store fulfillment into one sleek platform. On the hardware side, physical and virtual improvements in technology have improved the utility of tablets, handheld and wearable devices, barcode scanners, receipt printers, and cash drawers, which continue to replace the traditional fixed-lane, proprietary technology cash register.
The growing advanced hardware/software trends garnering the lion's share of retailers' attention in POS are:
Cashless and Touchless Payment:

Spearheaded by

the COVID-19

pandemic, this type of payment option continues to be popular, offering consumers increased speed, convenience and security in their purchases (Think mobile wallets to Amazon Go). Approximately 51% of Americans now use tap-and-go credit and debit cards and digital wallets that can be accessed through a smartphone or smartwatch. Three years ago, 67% of retailers reported that contactless payment capabilities were already included in their infrastructure.
Declining swipe transactions:

Chip readers and touchless payments are replacing swipe transactions. In August 2021, Mastercard announced it was doing away with the magnetic stripe on its cards. Others are likely to follow.
Bluetooth:

Bluetooth technology allows businesses to connect mobile card readers and other peripherals without monopolizing Wi-Fi bandwidth or increasing internet expenses. Managing the upgrade of POS hardware poses challenges, including increased network demand, managing device security, and additional employee training.
Increasing self-checkouts:

A solution for addressing

labor shortages and rising minimum wages, there will undoubtedly be an increase in self-checkout stations.
Electronic shelf labels:

Another labor-saving feature is electronic shelves, which are updated automatically when prices are changed and deliver digital content right to the aisle.
Pickup lockers:

With BOPIS mainstreaming, having secure self-service lockers to store items for customer pickups will add to customer satisfaction while cutting down on labor.
Artificial intelligence (AI):

AI promises the ultimate in flexibility, along with precision inventory monitoring, tracking and order management and swift integration to backend systems to support reporting. AI-enabled POS brings powerful capabilities for tracking customer behavior and adapting accordingly. And promises extended support for payment methods, including mobile and facial recognition.
Virtual Reality/Augmented Reality:

VR and AR may not be the first thing we think of in terms of POS, but the future of POS systems will include offering customers new ways to pay wherever and whenever they're ready.
Cloud-Native Point of Sale
Major enterprise retailers that have been held back by the proprietary nature of legacy systems are adopting cloud-native POS for faster deployment, enterprise visibility, ease of maintenance, and lower cost of ownership. In 2021, 22% of retailers said they had moved their retail point of sale systems to the cloud, and 29% said they planned to move to cloud-based systems by 2024. The advantages of cloud-native POS that drive adoption are:
The cost and resiliency of cloud infrastructure that auto-scales on demand is highly advantageous over the large infrastructure investment of "containerized" legacy systems and attempting to scale non-cloud-native services.
Architecture advancements and the availability of feature-rich, highly configurable SaaS-based cloud solutions save retailers the high cost and long lead time of custom software development.
Cloud-native POS allows omnichannel experiences and personalized shopping to work together seamlessly.
Automated POS updates are quick and easy to implement, eliminating the need for complex regression test cycles.
Instantaneous data sharing from cloud-native POS systems produce analytics that conveys a greater understanding of customer data.
Read about how Molton Brown's successful cloud strategy delivers a frictionless digital-to-store experience and enhanced in-store shopper engagement.
Future Proofing with Modern POS Architecture
In addition to increasing the adoption of cloud-native POS, many retailers, such as Kroger, have prioritized future-proofing their enterprise architectures so they can quickly adapt to ever-changing customer demands by going headless for store systems. Headless, and its even more powerful composable commerce ally, are key to agile innovation in a highly unpredictable world with fast emerging digital retail trends.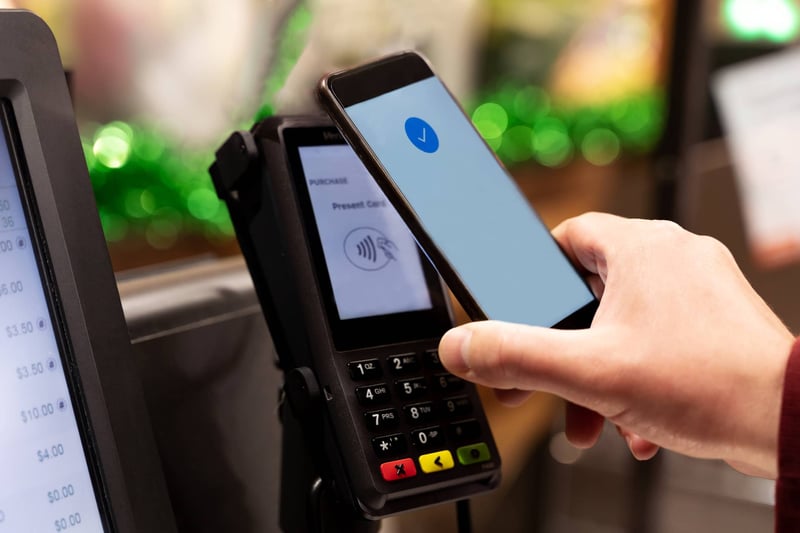 While digital transformation is a major investment, the inability to offer enticing, convenient retail experiences is a strategic misstep. Retailers with siloed legacy architectures make offering shoppers new retail experiences a slow, high-risk challenge. Keeping up with trends such as omnichannel experiences and shopper personalization is virtually impossible before they become old news.
Transformation doesn't have to be an all-or-nothing proposition. OneView's Headless Commerce solution helps retailers iteratively add new retail experiences alongside their legacy point of sale systems and eventually transition them off of them.
Schedule a demo to see how headless commerce can work in your stores.
Bridging Multi-Channel for Seamless Omnichannel Journeys
Multi-channel shopping experiences were accelerated by the COVID-19 pandemic with buy online, pick up in store, at the curb or elsewhere, delivery, and more. As a result, consumers now expect retailers to present options that make their omnichannel shopping experience easier and more convenient. According to Nielsen IQ, 22% of shoppers plan an in-store shopping trip combined with a prior online order. And according to Deloitte, 96% of retail executives believe consumers want a seamless experience across channels.
To achieve a seamless experience, a modern POS merges digital experiences with in-store checkout and engagement, bridging online and in-store shopping. As a result, retailers should seek vendors that enable seamless omnichannel experiences, including:
Buy online and pick up in-store (BOPIS)
Buy online and return in-store (BORIS)
Shop online by store to check accurate product availability before store visits
Research products in-store and buy online
Buy products in-store and ship to a home
Research products online and buy in store
Buy in store using digital payment and loyalty options

Personalized Shopping Experiences in Retail POS
In addition to seamless omnichannel experiences that deliver convenience, consumers expect personalized experiences. According to a McKinsey report, 71% of consumers expect companies to deliver personalized interactions and 76% get frustrated when this doesn't happen.
In fact, consumers are willing to share their personal data in exchange for personalized interactions. A Genesys survey found that a majority of consumers exchange their information for monetary promotion incentives and discounts based on their interests.
What's more, personalized interactions have become synonymous with customer service. Better experiences are likely to translate into consumers who are willing to pay more for improved engagements.
For optimum results, personalization must merge digital and in-store interactions. Instantly leveraging the valuable information captured in POS software builds customer profiles that store associates can use in tailored clienteling apps on the floor and at the register for personalizing recommendations and engagements. POS data should also be leveraged across marketing programs, including creating personalized email marketing, offers, and rewards.
Alternative Payment Options in POS
Post-pandemic payment methods have expanded far beyond cash (now only about 12% of all payments) and classic credit cards. Future-forward retailers should consider POS with advanced functionality to accept additional payment methods, including those listed below to accommodate more customers and encourage more sales:
Mobile/contactless payments such as Google Wallet, Apple Pay, PayPal, Venmo, CashApp, and other apps and services
Amazon Pay extension to offline merchants
Buy Now Pay Later (BNPL) services such as Klarna, Clearpay, and Laybuy for purchasing and paying in installments, often with no interest
Installment payments (without BNPL) that can improve conversions, average order size, and retention rate
Access to saved payments in a customer's "brand wallet" for a streamlined checkout experience that encourages loyalty and increases customer satisfaction
Acceptance of multiple payment methods
Omnichannel gift cards purchased online for in-store purchases and vice versa.
Integration with loyalty and rewards program to encourage repeat purchases and increase customer lifetime value by offering incentives for customer retention
Cryptocurrency acceptance growth beyond PayPal, Visa, and Mastercard

Key Takeaways
The pace of POS system evolution continues to accelerate, expanding opportunities for retailers to improve operational efficiency, associate productivity, and more convenient, engaging customer experiences that promote loyalty and sales growth. In a word, the point of sale system is critical in managing results and is the heart of the highly-valuable in-store experience — still the place where the vast majority of retail transactions take place. The best POS systems streamline retail operations by automating transaction processes and capturing, tracking, and sharing important sales and inventory data across digital and store channels via associate devices.
Cloud-native point of sale that merges digital and physical shopping experiences for a seamless omnichannel journey
Headless architecture that accelerates development of innovative customer experiences
Data-based creation of personalized customer experiences
Convenient, flexible checkout and payment options that improve customer service
Retailers don't have to abandon their legacy systems to eliminate vendor dependency and drive new innovation. They can take advantage of modern cloud-native point of sale with a headless architecture to quickly meet consumer demands alongside their current in-store tech stack. OneView's transaction engine powers our SaaS Unified Commerce Platform to enable channel-agnostic cart processing, continuous basket calculations, promotions and instant tLog generation to enable a host of convenient point of sale checkout options in your stores.

Lexy Johnson
Go-to-market and thought leadership strategist empowering OneView teams to bring exceptional products to market