Comprehensive Guide to Self-Checkout
Back in 2013, e-commerce had yet to hit its growth spurt and the in-store shopping experience was the de facto standard. Even then, long before the convenience of e-commerce had intrigued the masses, consumers bemoaned the drudgery of the checkout line. Today, even with the growth of online shopping into the mainstream of American commerce, the vast majority of transactions still take place in brick-and-mortar physical stores. And today, just as many say the checkout process remains the worst part of in-person shopping.
Before the pandemic, 48 percent of shoppers said they sometimes or often walked out of or avoided stores because of the long checkout lines. An even higher percentage agreed that long waits would compel them to stay away in the future. Like the last mile is to the supply chain, checkout is the final stage of the marketing chain. And executing it with relevance and agility encounters similar complexities.
As the final interaction with buyers, a streamlined point-of-sale (POS) is critical as no one wants to lose a sale at this stage, given the effort required to ushering the customer through the buying process. Properly executed self-checkout eliminates much of the friction that can induce in-store shoppers to literally abandon their carts.
Read on to discover how self-checkout is poised to revolutionize retail commerce. Here's what's covered:
Self-checkout vs. Cashier: Pros and Cons
Self-checkout and Customer Experience
What's Next for Self-Checkout (and Beyond)?
Self-Checkout's Role in

Unified Commerce
A Brief History of Self-Checkout
Once the exclusive purview of gas stations and grocery stores, self-checkout kiosks are now readily found at big box, home improvement, convenience, furniture stores and more. Expedited by COVID-19, all kinds of stores plus restaurants, hotels, banks, and government services have quickly jumped into the act. All have recognized the potential to increase revenue, reduce labor costs, and streamline the customer experience. The history of self-checkout has focused on realizing all that the technology has to offer while overcoming challenges to consumer adoption and retailer implementation by connecting this POS technology with other digital and store commerce breakthroughs. While the contributions self-checkout makes to improving the customer experience are myriad (they are discussed below) retailers have been quick to realize that the technology also delivers significant strategic and marketing benefits as well:
Customer Engagement
Screens attached to self-checkout kiosks expand the ways retailers can interact with their customers. On-screen messaging can offer suggested purchases based on items already scanned, print personalized coupons, and, when combined with loyalty cards, inform shoppers when they are close to earning a reward.
Maximal Lifetime Value
Leaving customers with a pleasant feeling about their in-store encounter is half the battle in enticing them back. The last impression a retailer makes on customers is the first thing they will remember when making their next shopping decision.
Granular Targeting and Segmentation
Self-checkout kiosks can collect and report granular data on who purchases what items, market basket composition, frequency of consumption (does this shopper buy a gallon of milk, a loaf of bread, or a dozen eggs every week or every other day?) Retailers can use this information to customize offers and engage consumers. Imagine the goodwill a store could generate by informing the frequent milk buyer of a tomorrow-only BOGO sale.
Self-Checkout vs. Cashier: Pros and Cons
COVID-19 and its aftermath have resulted in worker shortages, supply chain disruption, demand inconsistency, and other challenges for retailers. Many have turned to technology for answers and self-checkout has certainly established itself as part of the solution. But only when it works right and meets customer expectations. When it doesn't, self-checkout becomes no more convenient — and often more frustrating — than interacting with a cashier. Companies considering installing, expanding, or upgrading self-checkout kiosks should ensure they take advantage of the technology while guarding against its potential pitfalls.

Smooth Scanning: The Pros of Self Checkout
Only one-third of consumers prefer traditional checkout, while more than 80 percent regularly use or want to try self-checkout. Unfortunately, too many in-store shoppers are forced to settle for cashier-assisted checkout because it is the only option available. Retailers rightly are rushing to close this gap and provide greater customer satisfaction:
Minimal Interpersonal Contact
Tallying and bagging groceries and other purchases for themselves reduces the number of hands touching consumers' food, clothing, toiletries, and other items, mitigating health concerns.
Faster Checkout
Self-scanning locations often have shorter lines than cashier stations, allowing customers to pay and leave the store more quickly. Self-checkout can expedite the checkout process, as shoppers bag their items as they scan them and do not spend time interacting with employees.
Multiple Payment Options
Self-checkout kiosks are adaptable to accept not only cash, debit, and credit purchases, but also any of the "tap-and-pay" mobile money-transfer applications such as Apple Pay. These convenient methods extend touchless commerce, adding to both shopper convenience and safety.
Personalized Service
Kiosks can form an integral component in omnichannel marketing to deliver custom messaging and offers that today's digital-savvy consumers demand. Self-scanning interactions offer ideal opportunities for upselling and cross-selling and reminding shoppers of items they might have forgotten.

Barcode Red
As noted, most shoppers prefer or are willing to try self-checkout. Ensuring widespread adoption requires stores to make the experience as frictionless and pleasant as possible. Retailers should take several steps to establish their self-checkout options as a sustainable competitive advantage that eliminates shopper frustration.
Conspicuous Cleanliness
While circumventing the cashier experience eliminates other people's handling of the customer's purchase, it often requires them to frequently contact surfaces many others have touched. Stores should make a show of disinfecting scanners, touchscreens, and keypads after every use to instill confidence in their clientele.
Responsive Customer Service
Unreadable barcodes, malfunctioning scanners, indecipherable instructions, and other malfunctions anger and frustrate shoppers. And because stores often employ only one or a few employees to monitor multiple self-checkout locations, the response can be slow. Stores will endear themselves to customers by hosting engaging and easy-to-use self-checkout experiences, and assigning ample staff, and giving them the training they need to quickly resolve any issues.
Security Precautions
As with any non-cash financial transfer, self-checkout transactions expose consumers to theft and fraud. Ensuring that self-checkout lanes are protected is critical to avoid security issues such as the installation of skimmers into card readers used in grocery stores, ATMs, gas pumps, etc., to record customers' credentials.
Self-Checkout: Enhancing the Customer Experience
The pros and cons listed above are more than theoretical. Several surveys have confirmed their validity. One customer poll revealed that 85 percent of self-checkout users believe they complete the process more quickly than they could with a cashier's help. At the same time, two-thirds have experienced a self-checkout fail and one-quarter of those choose not to use the self-serve option due to having had a bad experience in the past. These statistics illustrate that while self-checkout is a critical component in a range of retail settings it is likely not the answer for every retail situation. Retailers need a game plan for determining whether self-scanning, cashiers, autonomous checkout, or some other solution or combination is right for them. Here are some variables to consider:
85% of self-checkout users believe they complete the process more quickly than they could with a cashier's help
Store Layout and Traffic Flow
Shoppers picking up just a few items often prefer self-checkout, so providing an unimpeded path from the bread, milk, eggs, baby supplies, and "other essentials areas" can improve the experience. Better yet, consider placing self-scan kiosks directly in these areas.
Nature of the Transaction
Obviously, lugging a new refrigerator or a holiday grocery order through self-checkout is unfeasible, but other products or purchase processes can bring less overt, but just as vexing, problems that preclude self-scanning. Stores that sell high-dollar items, products whose security tags must be removed, custom-tailoring, and age-restricted products and pharmaceuticals can create bottlenecks that must be overcome.
Risk/Reward
While delivering on customer expectations, preferences, and convenience is the primary consideration, it should not be the only one when deciding whether to implement self-checkout. Ignoring other factors related to security, safety, and more could damage a store's reputation, drive it to incur unmanageable upfront costs, and expose it to an increased risk of theft.
Businesses that can adapt to or overcome these challenges unquestionably will reap the benefits of self-checkout by delighting the customer and generating actionable consumer data that make marketing, sales, promotions, layout, forecasting, scheduling, and product mix more efficient.
What's Next for Self-Checkout (and Beyond)?
Once stores have committed self-checkout, customers will expect them to adopt the latest technology to make it more effective and meet ever-growing demands. Self-service kiosks represent another touchpoint through which retailers can learn more about their customers and develop services that instill their loyalty and maximize their lifetime value. Businesses intent on keeping their customers satisfied should look into these emerging contactless and touchless accessories that reduce risk and boost productivity: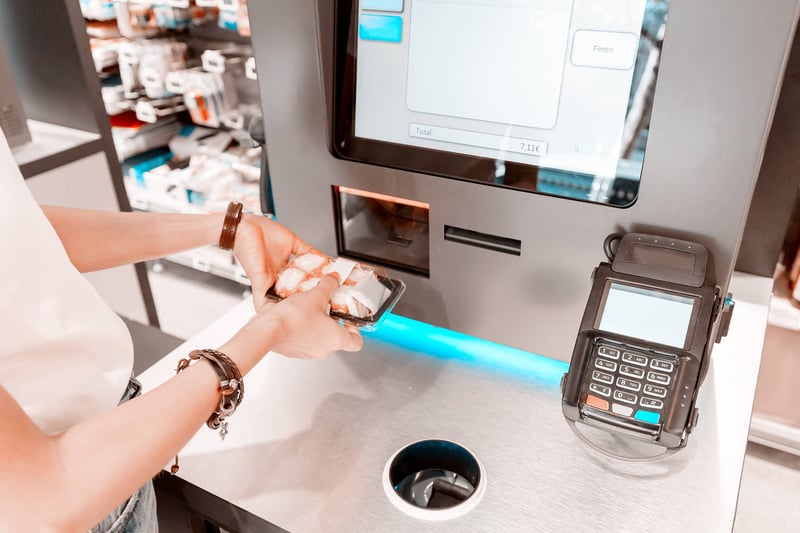 Take and Go
Led by Amazon, retailers are employing a matrix of highly sensitive cameras connected to product and shelf sensors and payment cards to allow customers to simply load up their carts and walk out of the store. With autonomous checkout, the in-store technology detects what has been purchased, automatically deducts the total from the shoppers' Amazon account or card on file, and sends them a digital receipt.
Scan
Walmart and Sam's Club are adding functionality to self-scanning from anywhere in their stores. The company's Scan & Go app allows shoppers to use their cell phones as barcode readers as they place items into their carts. When they are done shopping, one tap totals the cost. Another tap debits their cards and generates a QR code that employees scan to confirm payment as customers leave. In conjunction, Scan & Ship empowers buyers to pay for large items they find in-store and tag them for delivery.
RFID
Store items tagged with radio frequency identification can be scanned instantaneously and in bulk at checkout. This eliminates the need to take items to be purchased out of the cart and place them on the counter. Shoppers can simply load up the cart or reusable bag and roll or carry it through the scanning area to the payment module.
Making self
Checkout as painless and effortless as possible is critical to ensure rapid and universal adoption. This not only keeps customers coming back but also enables sellers to more efficiently allocate personnel and other resources. The Information Technology and Innovation Foundation reports that it costs 20 times less to process a customer through self-checkout than through cashier checkout. But this benefit can be lost through inefficient and proprietary hardware and software that has been the mainstay of self-checkout to date. Embracing a unified commerce strategy enables retailers to create lighter weight and open solutions for self-checkout that are an organic extension of their in-store digital and checkout strategies of the future.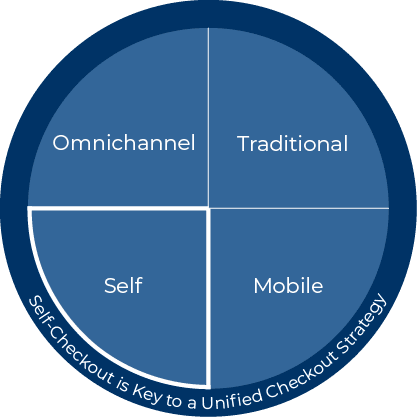 Self-Checkout's Role in Unified Commerce
Self-checkout and other point-of-sale technologies that expedite the buying process are ripe for digital enhancement and integration into a full-fledged unified commerce workflow. The checkout procedure touches several key components of the unified commerce platform, exerting direct or indirect influence on inventory, deliveries, ordering, customer service, marketing, and more. Checkout and fulfillment automation may merely be the next steps toward truly autonomous retail. It is obvious that unified commerce — the combination of online and offline retail technologies and practices that empower consumers to move freely through brand engagements and omnichannel purchasing scenarios — will determine the course of retail sales for the foreseeable future.
OneView Commerce helps retail companies utilize a headless commerce infrastructure to implement and scale self-, mobile-, traditional- and automated checkout solutions to break free of legacy checkout constraints. The modern cloud infrastructure and hardware agnostic architecture enable retailers to re-use existing hardware investments or explore lighter footprints for self-checkout. With OneView's modern cloud, new checkout solutions easily integrate across the enterprise creating holistic commerce experiences that synergize in-store with pickup and delivery, order management, CRM, and a host of other digital experiences through a single unified transaction engine.
There is much at stake for retailers who are not yet expediting the in-store journey through the checkout process. For many consumers, the lure of shopping online is the ability to take end-to-end control of the buying journey. Self-checkout is one way to deliver that autonomy in-store. To find out how and to discover ways self-checkout fits into a unified commerce strategy of the future, contact OneView Commerce for a demo and free trial overview.

Lexy Johnson
Go-to-market and thought leadership strategist empowering OneView teams to bring exceptional products to market