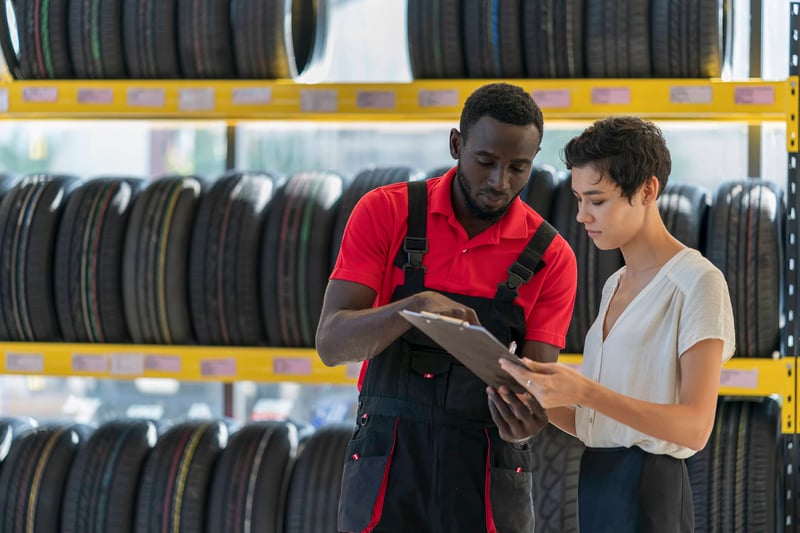 With more choices than ever before, shoppers are in the driver's seat. How you treat them is a huge factor in converting casual customers into advocates that tout your brand. Companies viewing customer service as an afterthought risk losing dissatisfied customers to competitors, even those who have been their customers for years. Perhaps the most telling statistic is that nine out of 10 consumers say they would pay more to ensure excellent customer service. This article delves into retail customer service as a competitive differentiator and ways to demonstrate customers matter and their business is greatly valued.
Customer Service
In a nutshell, customer service is the direct one-on-one interaction between a consumer making a purchase and a company representative who is selling it. It is a critical factor in ensuring buyer satisfaction and encouraging repeat business. Extending far beyond the sale transaction, customer service also is the support you offer consumers before and after they buy and use your products or services. As an integral component of the customer experience and our brand promise, customer service/support must be delivered as adeptly as possible to ensure brand reputation and customer loyalty.
What is Retail Customer Service?
In the simplest of terms, retail customer service is the degree to which you meet your shoppers' needs in every interaction of their journey no matter what channel interactions occur in. It entails transaction basics of speed, efficiency, and pleasantness with as little effort on the customer's part as possible. However, in broader terms, it also includes product knowledge acumen, customer appreciation, and personal/local connection with shoppers.
The following statistics are telling about the critical nature of customer service in retail:

It's important to understand the difference between customer experience and customer service in retail. Customer experience encompasses the entire shopping journey, from first logging into your online store or setting foot in your physical location to checkout. The retailer has proactively planned the steps of the journey in advance of the customer interaction. Customer service, on the other hand, is reactive in responding to customers' changing wants and needs.
Fortunately, your organization can control how customer service, one of the top factors in how shoppers perceive your brand, is provided. Your greatest assets are well-trained associates and a retail system with customer management features that provide insights into sales, marketing, and customer service efforts.
Americans are telling an average of 15 people about poor service.
The following statistics from American Express point to actionable steps discussed later in the article:
Americans are telling an average of 15 people about poor service.
Nearly 50% of consumers expect a response to social media questions or complaints within an hour, with 18% expecting an immediate response. Forrester echoes this, reporting 66% of U.S. online adults value their time, and the most important thing a company can do is provide them with good online customer experience.
33% say getting their issue resolved in a single interaction (no matter the length of time) is the most important aspect of customer service. And yet InfoLink reports that 86% of customers have to contact customer service multiple times for the same reason.
40% want companies to focus on taking care of their needs quickly; The future of service belongs to those who deliver quick, convenient and personalized customer service in the customer's channel of choice.

Leading Retail Customer Service Best Practices
While some of the following retail customer service tips may be more obvious than others, each one plays a significant role in the customer experience:
Get Ahead of Order Delivery Issues
Supply-chain issues are everywhere, so be prepared with a plan to address stock-outs. If an item(s) a customer has ordered for delivery or in-store pickup is unavailable or delayed, discuss the issue with the customer immediately. If you don't get in front of the problem before the customer arrives for pickup, the resulting sour experience damages the customer relationship. Offer solution(s) that satisfy them—perhaps a similar item at a discount or a store credit for the customer's trouble. If a substitute doesn't work, offer to waive the delivery fee to compensate for the longer waiting period.
Educate about Products
Nobody likes their purchasing experience of any kind to be a shot in the dark. In person, take the time to understand what they're looking for in a product and make sure they understand how it does or doesn't meet their needs. With fast, easy access to full product info (especially on mobile devices), associates can be a source of value to customers on the floor. While not every customer needs personal assistance in the store, asking if they'd like help never hurts. Online stores should provide all product information so the customer can make an informed purchasing decision.
Upsell When Relevant
Think of upselling as a way to ensure that customers get the right version of a product they want. By including other relevant, value-add products in the upsell/cross-sell process, associates help ensure the customer leaves the store with everything they need to feel completely satisfied. It starts with educating shoppers about the benefits of products, and continues with reading the customer's response. An associate with good listening skills can proceed lightly to ensure the customer doesn't feel exploited. Associates who come across as pushy can make customers want to avoid future in-store visits.
Be Available 24/7 to Address Concerns ASAP
Customers want quick, personalized resolutions, which calls for customer service that's available via multiple channels. Self-service support is an attractive option for getting answers any time day or night. It's frustrating to send an email or make a phone call to a customer service with a question you need an immediate answer to and learn they only respond on certain days or certain times. To make customers feel like their concerns are your concerns, a best practice is to be available in some way 24/7, which is no longer a perk, but an expectation. Adopting a customer service chatbot can support this effort.
Offer a Return or Refund Policy – If someone buys something they thought would fit, or buys the wrong charger for one of their devices, they should be able to quickly rectify the mistake and get the product they need from you (not someone else). You should have a comprehensive return policy to ensure customer satisfaction with your product and brand.
Apologize Sincerely and Meaningfully
While the "right" way to deal with unpleasant situations depends on the circumstances, it's best to start with an apology to make the customer feel like you care that they're disappointed. If there was an error on your end, do your best to own the mistake and make it up to the customer. Is there a way to reverse the error? Can you offer a discount instead?
Establish Multiple Communication Channels
Customers should be able to contact you with questions or concerns however is most convenient for them, and they shouldn't be limited to use one channel once they start. A series of interconnected communication channels, such as email, phone, social media messaging, or even a portal on your online store offers customers the best choice for them. If a customer reaches out on one channel, they should be able to pick up where they left off if the next touchpoint happens on a different channel. Don't make customers repeat themselves or start a conversation over – even if they channel hop.
Maintain a Positive, Professional Tone
Let's be honest, working any kind of retail or service position can be frustrating at times. But it is key that you don't let those frustrations spill over into your interactions with customers, no matter what their tone may be. It will take your brand representatives' patience to avoid anger, resentment and apathy at all cost.
Personalize Communications
To ensure that customers feel a personal connection with your brand, add a touch of personalization and recognition of their past business to your communications. Access to historical data and past conversations is a tremendous asset in making customers feel seen and valued. In addition to using their name, avoid case numbers. Recount their specific issue in resolving it. Associates can use checkout to get chummy with some small talk.
Focus on the Customer
Giving a customer your undivided attention is a non-starter for cementing your reputation as a business with good customer service. If you are talking to a customer face-to-face, make sure you are not distracted. If you are communicating online, make sure your replies are prompt and professional. Waiting for replies in a chat is agonizing and will diminish the customer's perception of your brand.
Demonstrate
Expressing gratitude to frequent customers is a key customer retention/customer service strategy. Personalized communication and offers acknowledging purchase milestones, birthdays let your repeat customers know they're appreciated. Recognizing customers at checkout with reminders of loyalty points, offers or promotions is also a valuable tool. At the same time, don't take new customers for granted. A welcome message/video lets them know right from the start you are grateful for their business.
Keep Your Brand Promise – If your brand, like most today, promises to meet customers' needs, that promise intrinsically commits to a high level of customer service/support. It is therefore imperative to nurture customers seamlessly during all interactions in the continuous shopping journey.
Retail Customer Service + Unified Commerce
As previously noted, the age of omnichannel commerce requires a vast expansion of how retail customer service is delivered, which extends far beyond the walls of your brick-and-mortar location, especially if you run an online-only store. Today, great retail customer service must be intricately woven into a seamless multichannel customer experience provided by a unified commerce platform.

Lexy Johnson
Go-to-market and thought leadership strategist empowering OneView teams to bring exceptional products to market