Finally, An Answer for Retailers to Test Digital Transformation without Risk or Unnecessary Cost
The concept of "free" can raise all kinds of suspicions. "You get what you pay for." "There's no such thing as a free lunch." Haven't we all experienced the down side of at least one so-called free offer?
But if you've been pining for a risk-free way to dip your IT toe in the complex waters of digital transformation without having to invest a small fortune, reading this post about OneView's free trial will be more than worth your while. In fact, there are several reasons to consider a 30-day OneView free trial:
Validate the technology's ability to deliver a key use case with limited resources.
Experience the planning and delivery process for a high-value business initiative.
See how OneView's cloud infrastructure and solutions solve your unique business challenges without legacy disruption.
Deliver proof of the solution's value that justifies strategic investments in digital transformation.
What's It All about?
Enough said about why the free trial is worth a shot. Now it's time to get into the meat of the offer. Simply put, OneView is so confident in the the value we deliver that we prove it by giving your team free access to:
OneView's headless microservices or ready-to-use omnichannel SaaS applications (point of sale, pickups, inventory, promotions, orders) to build out trial use cases and explore functionality
Training videos and our development documentation portal, including API schemas, ensuring you make the most of this eye-opening trial period with generous exposure to OneView technology's capabilities
OneView's Wiki and knowledge base that provide insights on use of the platform, use case planning and quick-start guidance
Trial resources including OneView's technical and business subject matter experts for support and guidance throughout your trial period
Noteworthy Examples
Here are examples of how this deep-dive, hands-on experience using OneView's proven technology has worked:
A leading grocery chain used a OneView trial to test and validate digital transformation objectives that would give them full control of experience development, and expedite delivery of innovative customer interactions. They expanded an initial proof of concept for scalable pickups to include pay at curb, high volume pickup stores, and delivery from fulfillment centers.
Another brand used OneView's trial program as a proving ground for how the platform could deliver next-generation point of sale. They demonstrated how access to new convenient, secure microservices would rapidly meet specific business objectives and mitigate risk for efficient planning and execution of what is now a large-scale, full store-transformation program.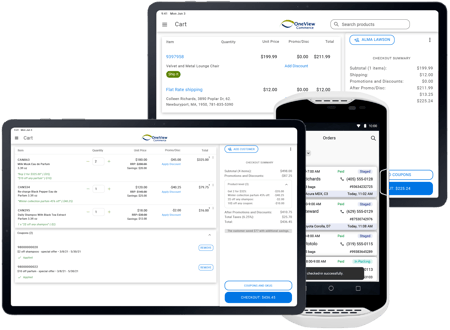 Trailblazing Digital Transformation on a Proven Path
Whether your team achieves your free-trial objectives with the flexibility of our headless unified commerce platform's microservices or our omnichannel SaaS applications, the stage is set for investing digital transformation with virtually no risk.
Based on your technology objectives, your team will see how OneView's cloud-native, headless platform provides unmatched control while our SaaS solutions deliver continuous innovation and rapid time to market. The scope of OneView's platform capabilities lets you select just the right approach to work cohesively with your existing systems and maximize the return from your existing tech stack. Give your team the power to test how a multi-function platform including an API-first microservices framework and powerful SaaS retail experiences can drive rapid innovation of customer experiences in weeks versus legacy solutions that take months and years to extend a single new initiative.
Getting Started
Once our team meets with your technical and business representatives to understand your challenges and identify a free-trial use case, we'll have the trial environments ready within a week. From there, your team works on the proof of concept, with final delivery typically after 4 weeks of work.

Want to Learn More? Download the Free Trial Guide here.